SVL parameters. More...
#include <sb.h>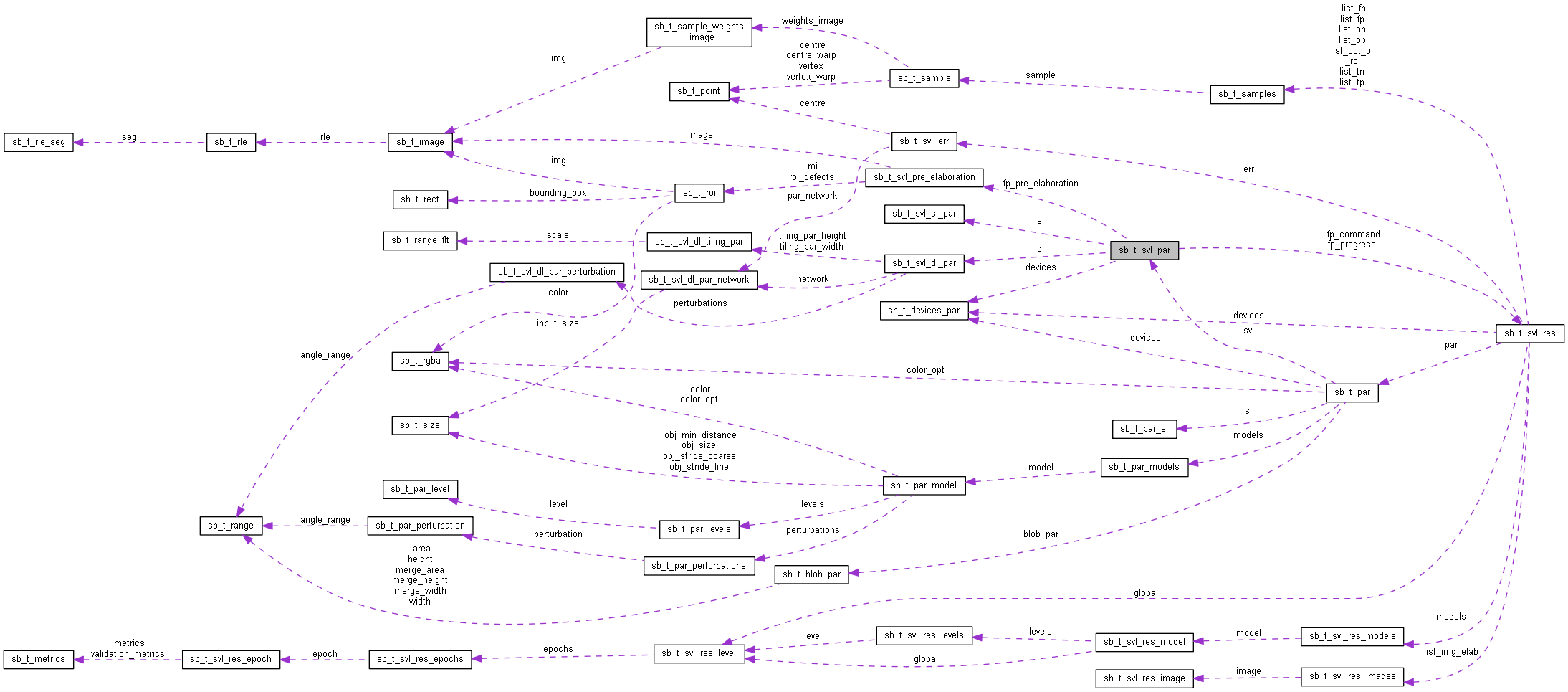 [legend]
◆ devices
◆ dl
◆ fp_command
Callback called by SVL to allow the user to decide how to continue when particular situations happen, see sb_t_svl_stop_reason .
See also
◆ fp_pre_elaboration
Callback to execute an image pre elaboration.
See also
◆ fp_progress
The SVL calls this callback to notify the user the results of SVL.
See also
◆ free_memory_percentage
float sb_t_svl_par::free_memory_percentage
◆ image_ext
char sb_t_svl_par::image_ext[64]
Extensions of the images.
List of the extensions of the images that the function sb_svl_run searchs in the project_path.
See SB_IMAGE_FILE_EXTENSIONS for a complete list of the possible extensions.
See also
◆ num_threads
int sb_t_svl_par::num_threads
Maximum number of OpenMP threads that SVL can use.
The value 0 means: half of the available threads for physical machines and all available threads for virtual machines.
The default value is 0.
◆ reproducibility
int sb_t_svl_par::reproducibility
Enable the reproducibility of the training.
If enabled, training results are repeatable for all the SVL runs, provided that sb_t_svl_par and the dataset are the same.
Otherwise, some random initializations are applied during SVL, leading each time to different training results.
The possible values are:
0: disabled
!= 0: enabled
Attention

For Deep Cortex and Deep Surface projects reproducibility is guaranteed only on CPU computational devices and when all parameters of the structure sb_t_svl_par being equal. For example, the svl results also change with different number of threads.
Moreover reproducibility is guaranteed only on the same machine and not between different machines.
For example, trainings done on the same Virtual Machines on different Intel-based computers are reproducible.
◆ sl
Shallow Learning SVL parameters.
Training parameters used only by Deep Cortex and Surface projects.
◆ user_data
void* sb_t_svl_par::user_data
Pointer to data which is passed to the callbacks.
See also
---
The documentation for this struct was generated from the following file: