Percentage of overlap with the sample of ground truth.
The percentage is evaluated using Intersection over Union method.
The formula is:



where

is the area of the ground truth sample and

is the area of the prediction.
Ihe IoU index takes into account both the overlap between the bounding box and the scale difference.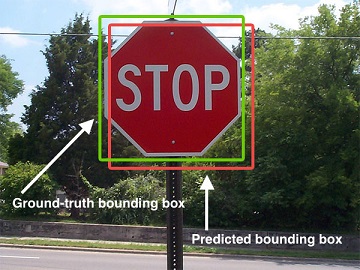 It is set by the function sb_project_detection . The range of value is [0, 1.0].
0 means non intersection
1 means full overlap
The IoU parameter has been added to the sample information to help detect situations where the classifier does not find the occurrence well superimposed on the ground truth sample.
Some of the possible causes and solutions are explained in the A low IoU value . The SB GUI, at detection time, shows a warning signal on the sample if its IoU value falls below a threshold that can be set in the Settings->Advanced menu as shown in the image below.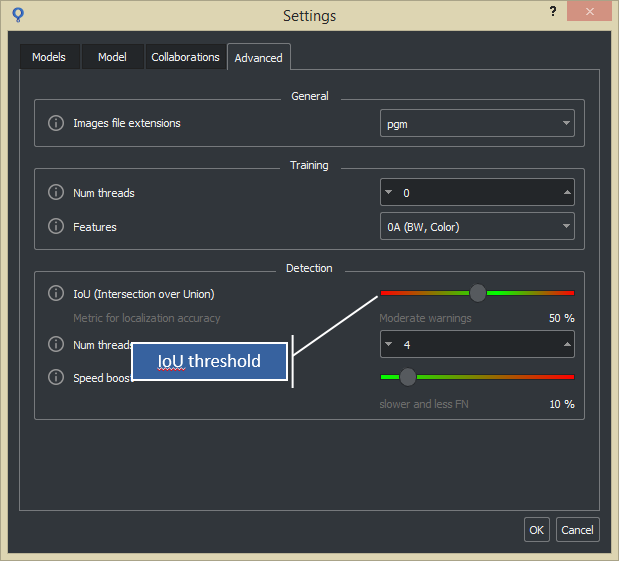 The following image shows the warning that is shown on the sample. A tooltip refers the user to the Settings->Advanced menu where it is possible to set the threshold and access the documentation.
To show the IoU value enable "Show IoU" option in the Preferences menu as shown in the image below.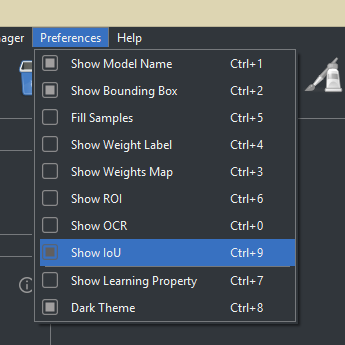 See also