Informations about a computing device. More...
#include <sb.h>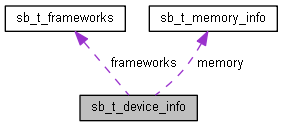 [legend]
Informations about a computing device.
Informations about device executing computations of the functions sb_svl_run or sb_project_detection .
◆ available
int sb_t_device_info::available
◆ compute_capability
char sb_t_device_info::compute_capability[8]
Device CUDA Compute capability.
CUDA Compute capabilities identifies the features supported by the GPU hardware and used at runtime. An official list of Nvidia GPUs and their associate CUDA Capabilities can be found at the following web page: https://developer.nvidia.com/cuda-gpus.
Filled only if the device type is SB_DEVICE_GPU .
◆ id
---
The documentation for this struct was generated from the following file: